Cut-To-Length & Coil Processing Line Equipment
135 Years Innovating Cut-To-Length Lines
Butech Bliss has over 135 years of experience designing, manufacturing and installing the world's most innovative roller leveling cut-to-length lines, stretch leveling cut-to-length lines, temper mill cut-to-length lines, slitting lines, multi-blanking and push-pull pickling lines to help service centers and toll processors meet their business objectives. Our goal is to be the only stop you need to make when it comes to metal forming equipment.
Our technology is utilized to process hot and cold rolled carbon steel, stainless steel and other non-ferrous metals applications. As a top name in rolling mill, coil processing and steel processing equipment. Butech Bliss strives to provide the highest quality solutions for coil processing available.
Our highly skilled engineering team designs solutions that address your unique operational requirements and help improve your productivity.

SYNERGY® LEVELING SYSTEM
The Butech Bliss hydraulic leveler and optional Synergy® Leveler are designed to remove flat rolled strip shape defects such as coil set, crossbow, edge wave, center buckle and twist. An enhanced menu driven operator interface allows...
click for more info >>
T

BRUSH ROLL SCALE COLLECTION SYSTEM
If you are a service center that roller levels or stretch levels hot rolled material, then you are familiar with the problems associated with scale dust. Airborne scale dust can cause havoc on your coil processing equipment by clogging air filters on...
click for more info >>
T
---
Roller Leveling Cut-To-Length Lines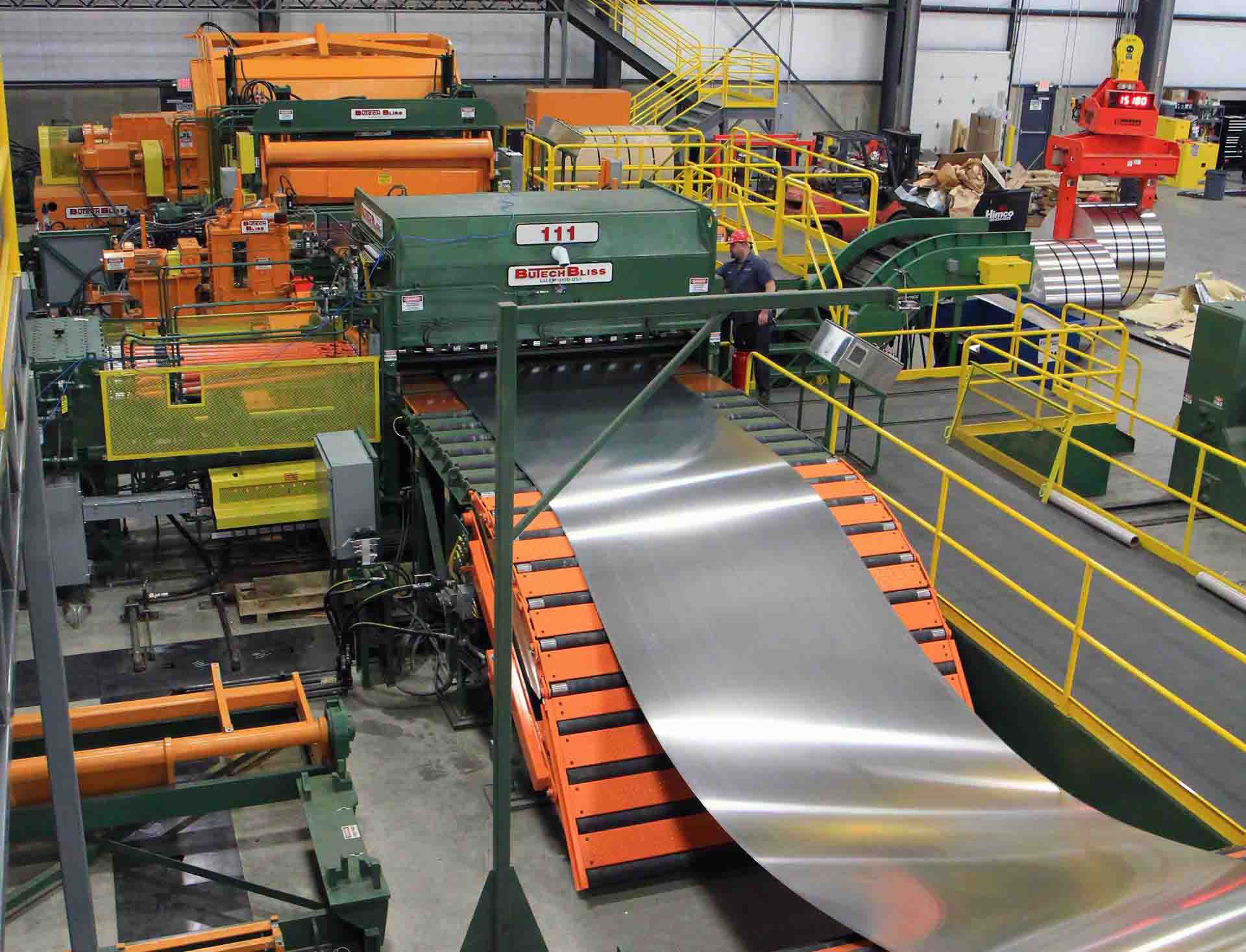 Butech Bliss builds levelers for a wide range of applications.  The solution we propose for any given project depends upon customer's requirements.  All our levelers include hydraulic flight adjustment and our self-calibrating feature.  We offer levelers with single work roll sizes, multiple cassette roller levelers with different roll sizes for use in one common housing and we offer our patented Synergy® Leveling System which combines two different work roll sizes in one cassette.  The Synergy® Leveling System broadens the product range of the leveler without requiring the operators to change from one cassette to another when certain cut-to-length line product ranges are being processed.
Most applications include individually driven work rolls which offer several advantages when compared to other drive systems for cut-to length lines.  These advantages include:
The ability to create inter-roll tension
The ability to continue running should a particular motor or gear reducer fail
Reduced spares inventory cost
Each roll is driven by a common fractional horsepower motor and gear reducer when compared to a single motor, reducer, and pinion arrangement
Application: Cut-To-Length lines, Multi-Blanking lines, and discrete sheet and plate levelers
Shape Improvement: 50 to 100 I-units dependent upon the incoming shape
Coil Memory: Levelers work the top and bottom half-thickness of the material such that shape improves and differential stresses are minimized.
Attributes: Removes coil set, cross bow, wavy edges, and buckles; critical surface product requires six-high configuration and may result in increased maintenance; high strength steels are a limiting design factor; does not provide surface conditioning capability.
Use: Basic laser/plasma operations
Stretch Leveling Cut-To-Length Lines
Butech Bliss designs and builds Stretch Level Cut-to-length lines for every customer's specific and oftentimes unique requirements. Whether you are looking for a discrete plate stretcher or a coil-to-sheet stretcher we have the engineering capabilities to meet your needs. We've supplied over 150 Stretch Levelers for processing everything from aluminum plates for the aircraft industry,treadmill plates, hot rolled, HRPO and cold rolled steels including low carbon and high strength steels.
Our Stretch Leveling Cut-to-length Lines include gripper heads specifically designed for your application. Some include a replaceable, economically priced, commercially available gripper pad that allows changeover between various products without the need for downtime to clean or replace the gripper head assemblies.
Butech Bliss can provide wedge type grippers or direct acting grippers. Either style is capable of operating at multiple pressure settings so adjustments can be made to prevent edge distortion when processing narrow light gauge product or surface marking when processing soft, coated materials like hot dipped galvanized steel. No need to add shim plates on narrow product with a Butech Bliss Stretch Level Cut-to-length Line. Our wedge style grippers are especially effective at preventing slippage while also avoiding the potential for edge distortion.
Our Stretch Level Cut-to-length lines are designed to process multiple materials and material characteristics on the same line. The control system portal is an HMI based design that enables easy setup changes and recipe driven menus to vary stretch, hold and retract cycle times, stretch speeds and clamping pressures according to specific product requirements.  Recipe driven menus increase productivity and product consistency because the settings can be quickly recalled when repetitive runs of the same cut-to-length coil lines product are required.
When Butech Bliss' Stretch Leveling Technology, Synergy® Leveling System, unique Brush Roll Scale Collection System and direct drive shear technology are combined, you know you have all the tools you'll ever need to meet your customer's requirements.
Application: Cut-To-Length lines (lines include a backed up, close center leveler(s) to correct surface-to-surface length differential defects and to pre-condition the material for stretch leveling)
Shape Improvement: 800 to 1000 I-units
Coil Memory: Stretch leveling changes the crystalline structure of the metal through the use of tension.  This change reduces internal stresses and the material remains flat when subjected to cutting operations such as laser or plasma cutting processes.
Attributes: Removes coil set, wavy edges and buckles; cannot change or improve surface characteristics; designed to process a wide range of products and material properties, including high-strength steels; low initial costs and low operating costs; some material width neck down does occur as a result of the stretching process.
Use: Basic and difficult laser/plasma cutting operations and welding applications; excellent for processing checkered floor plates.
Temper Mill Cut-To-Length Lines
The Butech Bliss 2 Hi or 4 Hi temper mill solution uses the world famous Bliss technology supplied to mills throughout the world. The temper mill solution is the ultimate when stress equalized and surface improvement or high productivity is required. A temper mill line is a high production line with a rotary or flying shear. The stacking system is designed to accommodate sheet or plate on the fly. The temper mill line includes levelers located after the mill for further shape correction. When compared to the other cut-to-length lines, the productivity is unequaled. The Butech Bliss temper mill features a hydraulic roll force cylinder that is the industry standard. With more than 60 temper mills in our history, why not let Butech Bliss be your mill provider.
Application: Cut-To-Length lines or standalone Temper Mill
Shape Improvement: 800 to 1000 I-units
Coil Memory: Temper mill elongations and mill compressive forces produce equalized stresses top and bottom to produce a stable product for downstream processing; the leveler(s) extend portions of the material to further improve shape; the material remains stable during burning, welding or forming
Attributes: The temper mill will improve flatness, provide a means to change surface finish and modify the metallurgical properties of the material; leveler(s) remove coil set, cross bow, wavy edges and buckles; mill requires higher initial investment and long-term operating costs when compared to alternate technologies
Use: Basic and difficult laser/plasma-cutting operations and welding applications
Slitting Line Solutions
At Butech Bliss our success over the past 135 years has been solely based on our ability to deliver innovative solutions that keep our customers on the leading edge of technology.  Our cut-to-length lines and slitting products are designed to process ferrous and non-ferrous metals. High efficiency, reliability, and optimal productivity are engineered into every aspect of our equipment.
Butech Bliss has a history of going from a first-time product provider to a technology leader in a truly short time.  The products we add to our portfolio are quickly regarded as the best in the industry and the standard to which our competition strives to match. This experience and drive make our progression into slitting lines a natural next step. Our large team of mechanical, hydraulic, and electrical engineers are continuously refining and upgrading our equipment designs to keep us the leader in performance and reliability. Giving our customers the best possible ROI for both the short and long term.
Slitting Solutions
As a premium supplier of complete slitting lines, Butech Bliss prides itself on improving traditional designs by providing innovative solutions to the traditional production tasks and hazards that have existed historically. Butech Bliss provides patented solutions that enable this efficiency while also pushing the boundaries of what was previously considered to be unachievable on a slitting line. A case in point is our patented notching unit ahead of the slitter. This takes a technique that has been in practice for a long time but greatly improves it, virtually eliminating operator interaction with the strip and reducing the time it takes to thread the line.
Reliability and Uptime Features
We recognize the need for equipment to be reliable, especially through our years of experience designing equipment for hot mills, cut-to-length coil lines, cold mills, and push pull pickle lines. The reliability of our equipment results from not only the mill-duty robustness and utilization of proven technology but also through our control systems that monitor crucial aspects of the equipment to identify potential issues and routine maintenance requirements.  All these features combine to provide extended periods of uptime and ensure shorter periods of downtime. Butech Bliss has the solution for cut-to-length coil lines.
 The Highest Quality Multi-Blanking Lines
Small accurate blanks can be produced by slitting the width and then cutting the length in a cut-to-length line and perfect cut-to-length coil lines. When they are combined in the same line Multi-blanking is born. Floor space is less but more importantly response time to customers is minimal because you can produce many high-quality blanks in a small amount of time.
Butech Bliss multi-blanking lines have the slitter located directly after the leveler and ahead of the looping pit. This strategy means the slit mults can spread out ahead of the shear and stacker. This feature produces results such as locating the side trim scrap chopper to be in an accessible area, (before the pit), and the stacker is robustly designed and maintenance-free.
Multi-blanking requires feeding of the slit mults through a shear either onto a belt run out table if the inspection is desired or feeding the mults through the shear directly into the stacker.
Butech Bliss Blanking Advantages:
Minimizes induced cross bow
Improved slit cut edge quality
Improved shear cut quality
Improved blank flatness
Our hydraulic levelers or our optional Synergy® levelers are designed to remove flat rolled strip shape defects such as coil set, crossbow, edge wave, center buckle, and twist. An enhanced menu driven operator interface allows simple graphical controls and a recipe system for quickly saving and recalling the best shape correction settings for a particular product like our cut to length lines and services. This HMI based control package is both intuitive and operator friendly. Our optional Synergy® leveler features two work roll sizes in one machine, individual drives, and a quick-change cartridge system. Both leveler types include an innovative feature for work roll and back up roll removal to assure quick and easy maintenance, as well as a zero-nesting feature that provides automatic self-calibration assuring quick and accurate leveling and repeatability with each work roll change. Additional features include a quick-change cassette system and a self-contained scale collection system for hot-rolled steel applications. The slitter technology available encompasses a wide variety from one fixed arbor and one jack moveable arbor to the super precision double eccentric type locating the slitter in the line so that it can run at a constant speed improves both knife life and cut edge quality. The slitter heads are quick change type with offline set-up stations. This location also means no chance of inducing camber as the mult "fan out" is under no tension in the pit. Butech Bliss is the best resource for cut-to-length lines and metal forming solutions.
Trust worthy manufacturers of Push-Pull Pickling Lines
Butech Bliss/Samuel Nelson Technology push pull pickle lines provide the latest designs in coil processing equipment. Designed for years of rugged service in one of the most difficult environments, Butech Bliss provides proven designs for all coil processing requirements. Beginning with the entry coil handling equipment, designed for easy and efficient coil loading with both the peeler and the hold-down designed to minimize the time required to load a coil. Butech Bliss is the top choice for cut-to-length lines.
The crop shears feature automatic knife gap adjustment for long knife life and excellent cut edge. The entry flattener has a standard recipe system with stored recommendations for machine settings.
The process section is provided by Samuel Nelson Technology. They have designed and built over 82 complete process sections for a variety of pickling lines world-wide. Samuel Nelson Technology owns and operates a push-pull pickling line at its Canadian facility, this gives them a unique point of view as operators and designers/manufacturers. This makes Butech Bliss/Samuel Nelson Technology an ideal choice as a supplier of steel pickling equipment and cut-to-length lines.
The high-powered leveler (optional) for the exit end is designed to significantly improve strip shape. The Synergy® leveler features multiple diameter work rolls to process the wide gauge range of products which is typical for a push pull pickle line. The standard Synergy® leveler features individual work roll drives, hydraulic roll bending, and automatic self-calibration. The leveler can be removed from the line (optional) for maintenance. Butech Bliss provides unmatched quality for cut-to-length lines.
Samuel Nelson Technology's new eco-friendly process "Turbo Tunnel" features savings on energy consumption, gas consumption, and oil consumption. This system reduces environmental emissions from the stack while increasing pickling speeds.  Learn more about Samuel Nelson Technology Process Sections.
---
What can we do for you today?  We have a complete line of equipment spare parts, engineering services, equipment rebuild service and on-site field service.